MovieBox is one of the top rated application which can install with 3UTools application for your device. Most users are downloading this application with 3UTools application. Can download 3UTools with App Store ? No, This application is not available to download with App store. MovieBox application is available to download with Cydia application and third party/direct download links. You can use 3UTools third party application to download many applications for your Ios running device. So 3UTools is a best intermediate application between Ios device and the computer. 3UTools is kind of Apple App store alternative application, So users can install applications easily without Apple ID with this method for iPhone/iPad/iPod Touch.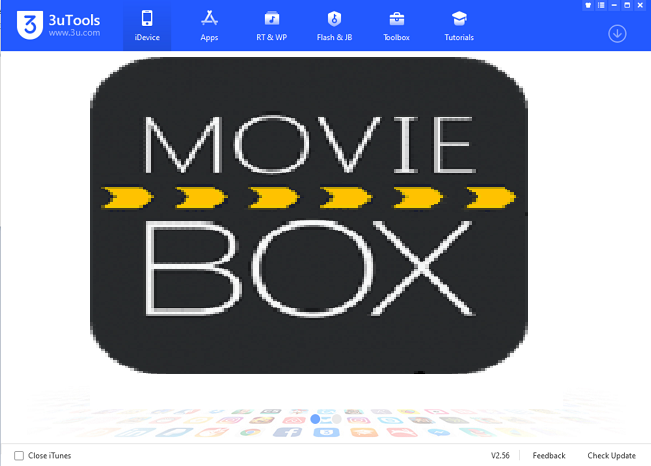 How to download MovieBox with 3UTools
First download 3UTools application for your Windows running device. You can follow our download page to get application for Windows running computers and laptops.
Then install application for your device
Then connect your device to the computer/Laptop. Then you can see device is detecting your device(If not detected, Please unplug and connect your iDevice connector).
Then tap "Apps" sign in the 3UTools application. You can see hundreds of applications are ready to download for your iPhone,iPad,iPod Touch.
Select MovieBox App and tap install. You can see MovieBox application is installing to your device with 3UTools. Please do not remove device from computer while application installation process is going.
Now enter Gmail account information to create your MovieBox account. This application is gathered you're your Gmail account (If you do not have Gmail account, Please create new account before install for your device.).
Next step, Users are required to enter code to activate account. This activation code is called "Invitation Code", you can get invitation code from your friend or application development team.
Note – If you do not have invitation code, Please email to MovieBox application development team regarding new code to activate your account. This code is lifetime for all users. If you already have invitation code, You have an ability to create new code every month for your loving users. However MovieBox application development team was given restrictions to share code with public users. This code need to enter within 15 minutes of time to another account, Otherwise your created code will be expire from the account. This application development team was given few restrictions to download application for your device.
After few seconds, You can see MovieBox app is loading with your device. Hurry Up & enjoy with your favorite movies with MovieBox now.
Download link for Users
You can follow this link to download application from our direct download links – 3UTools Download
Can download MovieBox for Android with 3UTools ?
3UTools application is not support for Android platform, You are unable to synchronize applications for Android running smart phones/Tabs using this application. However users can follow TutuApp,vShare alternative applications to download required application.
Can download MovieBox for AppleTV with 3UTools ?
First all users are required to install MovieBox application freeware version for your device. This application VIP version has TV installation. Therefore AppleTV application installation is possible only for VIP members. You can become a VIP member less than 20 $ per year. This will be great opportunity for all MovieBox loving users.