Can download 3UTools for iPod Touch ? This application is support for iPhone, iPad, iPod Touch. However 3UTools application is unable to install directly to your iPod Touch. This moment Windows is one and only operating system you can install this application. MAC and other operating system users are required to install alternative applications for their devices. Because we are unable to find any method to use 3U application with MAC operating system.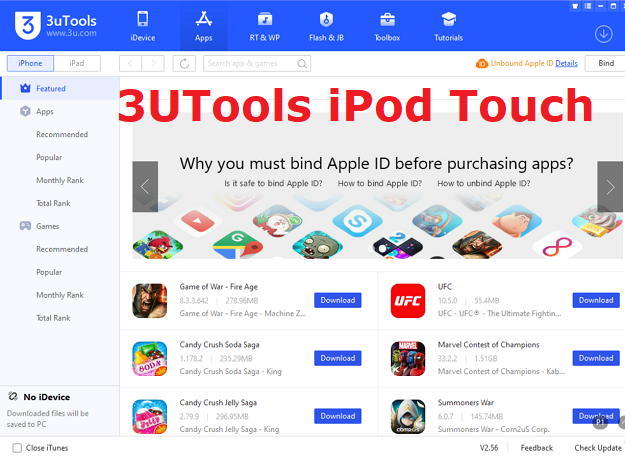 Download App – Click Here
How to use 3UTools application with iPod Touch
First download and install application for your PC, Then connect your iPod to the PC.
Then open 3UTools application, You can see iPod is detecting your device. (If not detected, Please restart your application and computer)
iPod is a useful Music playing device released by Apple users. This moment latest iPod Touch devices has lots of advantages for users. This application has only limited number of resources for iPod users.
3UTools resources for iPod users
Download and install your favorite Players
Convert Music and Videos for required formats
Check your device status
Check device hardware and software errors
Update latest firmware easily
Backup and restore your Device
Jailbreak features are ready without jailbreaking your device. So this is risk free advantage for users.
Support iPod iOS versions – You can use iOS 5 to iOS latest versions with this application. If your device is running with lower version, Please update to latest version before use it.
Can download 3UTools with App Store for iPod Touch ? No, Users are unable to download this application with official App Store or third party store.
Can jailbreak iPod with 3UTools ? This application is not jailbreak application. However you can touch most jailbreak features without jailbreak with 3u application.
Unable to use 3UTools with iPod Touch, Why ?
All users are required to run application after connected to the computer with USB cable. If not detected, Please plugin your device with proper USB cable. Also use latest application with your device. Any error with iPod Touch use with this application. Please message to us.