3UTools is a best application which is compatible to Windows operating system. This application is the most useful app for Ios users, We can say this is file and data management application support for iPhone,iPad,iPod Touch users. You can follow below direct download link to download latest version for your device.

3UTools version V2.56
File Size 99.94 MB
Last Update 11.03.2021
How to download 3UTools for your Device
3UTools application download for your Windows running personal computer using above direct download link. This application is support for most of the Windows operating systems.
Please run downloaded exe file in your computer, Then tap install button to continue installation process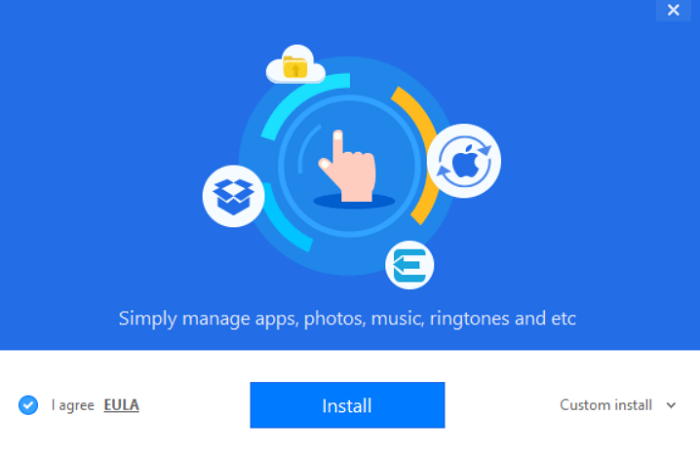 After few seconds, You can see installation succeeded message. Then tap Launch to open application from your device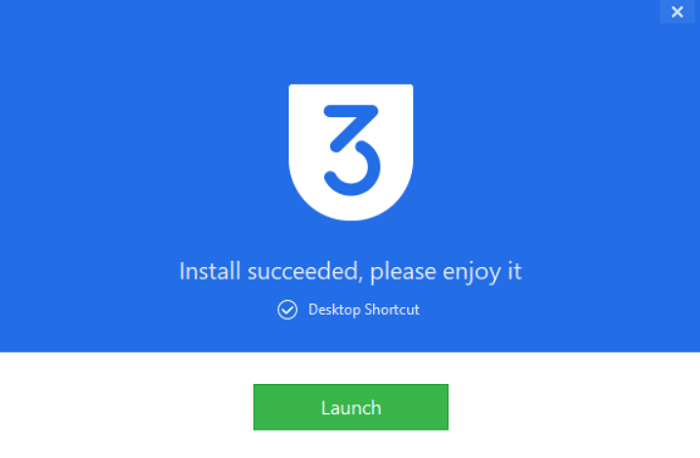 User need to connect Apple device, Otherwise following window will appear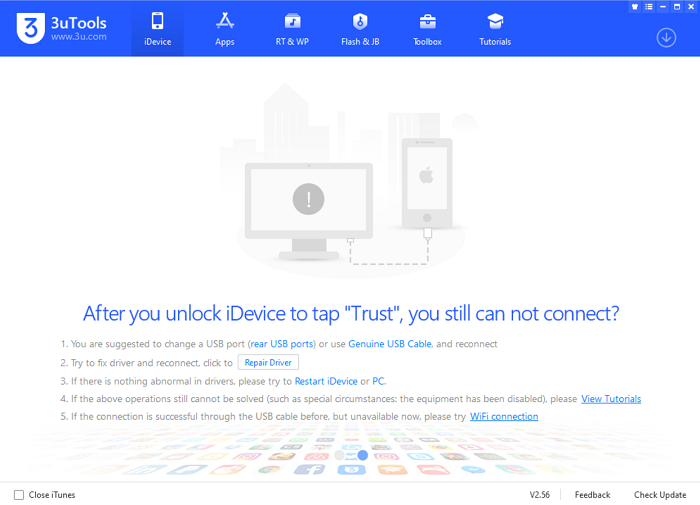 If you connect device, Tap Trust to touch with 3UTools features from your device. Following windows will appear.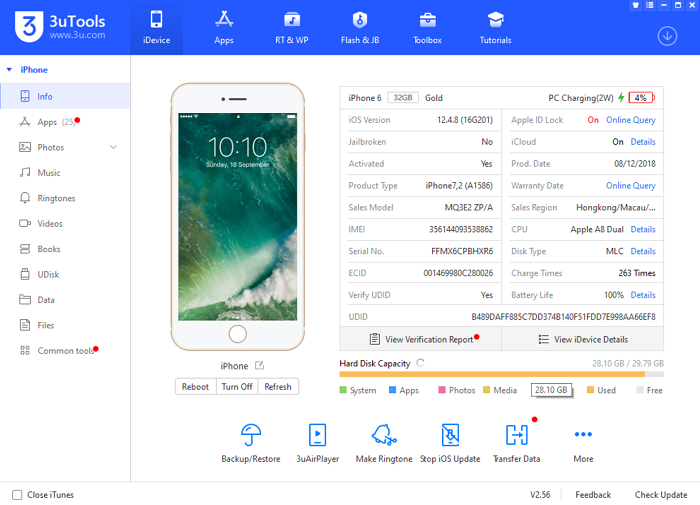 You can see much more features are ready with 3UTools application for Apple users. Most of these features are free for users, Therefore this application is the best one for jailbreak and non jailbreak users. We can say this application is best alternative app for App Store and iTunes. Because both of these applications features are gathered with this amazing application. Are you Apple user ? This will be your interesting second app store.
Device Management Application
This is user friendly application for all users. Most iDevice users are using this application as their favorite management tool. Users can manage device applications easily with this application,
Application management
File management
Music, Videos, Ringtone management
Books, UDisk, Photos management
Common Tools management – This common tools are gathered with much more features for users. Touch with this and enjoy everything as simple as possible.
3UTools for Jailbreak users
Jailbreak is legal and most Apple users are unable to jailbreak latest versions. Jailbreak is a kind of risky process for Apple users. Actually we are unable to recommend jailbreak your loving Apple device. Because latest versions are unable to jailbreak with trusted applications. We have seen many un-trusted applications are ready to jailbreak your device. Most of these apps are unable to install real Cydia application for your device. 3UTools is a best third party guided application which can use as helper application for jailbreak loving users. This application is one of the most trusted app which give proper guide for iDevice jailbreak process.
3UTools ToolBox and Tutorials
Application development team provide best Tutorials for users related with variety of areas. Therefore newest Apple device users can use this application as their device guided application. This ToolBox section included variety of tools, So users can use as one tool as set of tools. Application Tutorials are kind of set of FAQ's Apple iPhone,iPad,iPod Touch users. Please touch with this amazing application and enjoy…..
3UTools for MAC/Linux
Both of these application users are willing to install virtual Windows application to download 3UTool application for MAC and Linux platform. Otherwise, This application installation is not possible for your platform. Please follow our guides to download this application for MAC and Linux running platforms.