3UTools application has hundreds of features for users. This is one and only app which provide VIP features as free for users. Is it free ? Yes, You can touch with 3UTools all features free with iPhone,iPad,iPod Touch model. Virtual Location is one of the interesting feature provided with this amazing application. Users are required to activate location services under Settings > Privacy to function this feature. Please follow our tutorial guides before use this session with application. You can follow our download page to get latest version.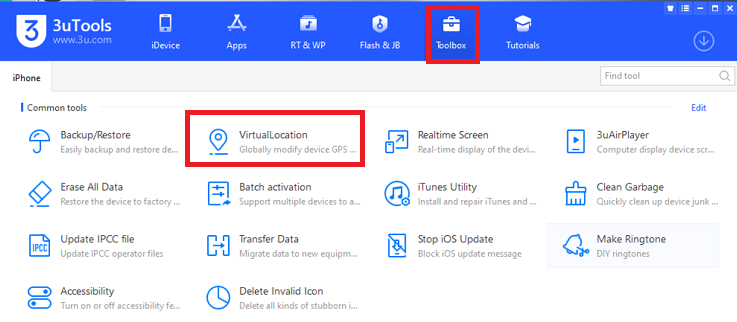 How to download 3UTools virtual location for your iDevice
First connect your iDevice to computer, Then open 3Utools application. – Click Here Download 3UTools
Then tap 3UTools ToolBox tab in the upper menu bar
Then select Virtual location, Now you can touch with location change feature with your requirement.
Please enter longitude and Latitude with your required location and click "Modify Virtual Location". Users can select location with google map with the requirement.
After few seconds "Successful in modifying the virtual location" message will appear. Now your device will detect as entered location information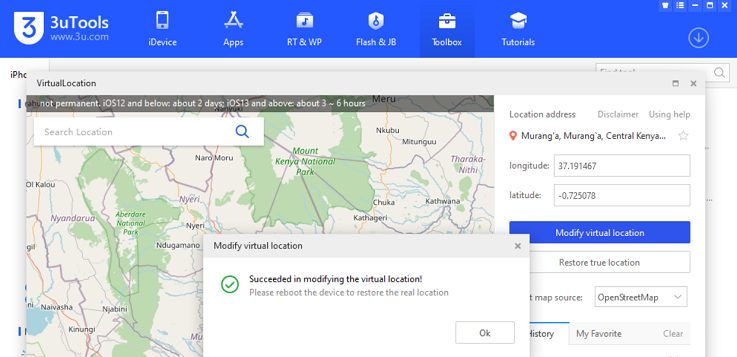 Virtual Location Google map feature
You can get information with Google map to change device location. This is really additional feature for users. Users can change map source as "Google Map" to touch with this additional feature. Also users can restore true location within few seconds. This is really user friendly application for all users.
Can download location services as separate tool ?
No, You are unable to use this application as separate application. This application is called "All in one solution", so users can follow many solutions with this toolbox session.
3Utools Virtual Location is not working, How to fixed ?
Please connect your device to PC before run this application with your device. Also make sure with your internet connection, this virtual location feature is depend with the internet. So please check your connection and also firewall if this apart is not functioning.
Alternative apps to change Virtual Location
We can recommend to download panda helper online application to follow virtual location apps. This is online based application which has many apps to change your location. But this application is not free for users, You need to pay amount to touch with Panda features.