3UTools application is commonly using to download ringtone for your device. This application has thousands of ringtone for users, All of these are free for you and these ringtones can easily install for your device. This application has generations of ringtones with different countries or cities. 3u application development team is regular updating their application with newly tones for users, So you can touch with high quality tones using this application. Can install 3utools ringtones online ? Yes, You can easily synchronize tones for your device just one click. However 3utools does not provide online application, So you must install application to Windows computer.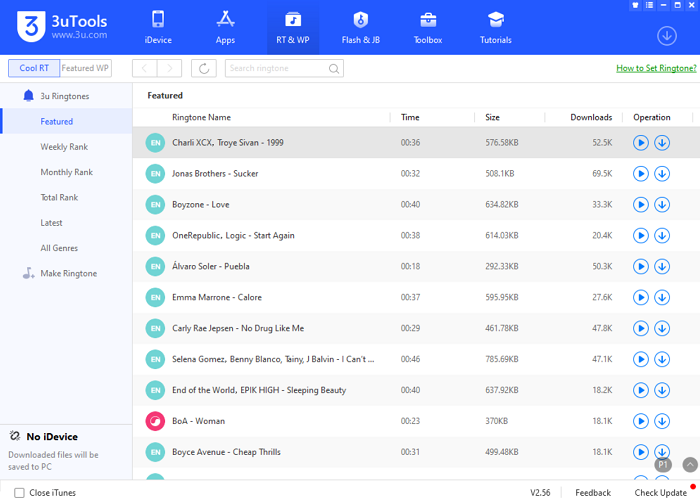 Download App – Click Here
How to install Ringtones with 3UTools application
First connect your device with USB cable and open application, Now you can see application is detecting your device. Now click RT & WP tab in the top of the application. Now you can see thousand of tones are ready and click play icon before install for your device.
Then tap down arrow download button to get for Your Windows PC. After few seconds you can see download completed.
Now click left hand side Ringtone and you can see downloaded tones are ready with your device now.
You can install downloaded tones just clicking install button. Click install…
Now open your device settings > Sounds > Ringtone and you can see tones are ready up in your device. Tap it and enjoy with latest tones.
We have seen some ringtone creators are using this application to create their own tone. Some users are following this feature for funny works and you can follow own tone with your own device. This is added advantage for all users, You have all resources to create this tone with well quality. This will be really additional feature for 3u loving users. If any error with ringtone use and installation for your device, Please comment here.