3UTools application has many features for their loving users. Invalid Icon feature is one of the valuable feature most users are interesting to use this application. We are installing applications to the devices with different methods. Application developers are using variety of methods to create their installer. Perhaps some developers icons will be headache to you, Because users are unable to remove icons with common method. So we need to find reliable way to delete these icons easily. 3UTools provide very flexible way to remove all of these unwanted icons from your device.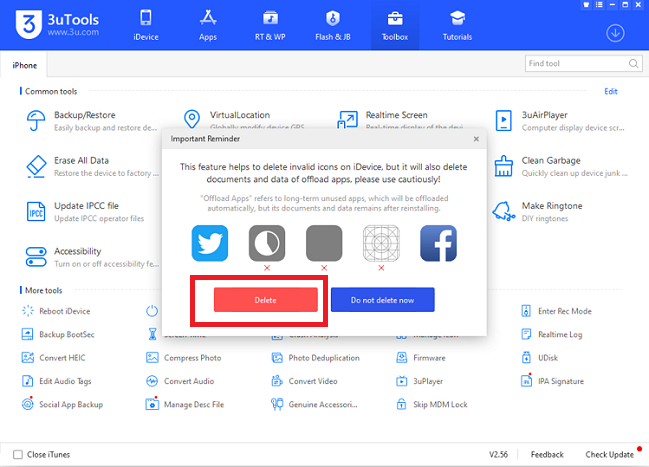 Download 3UTools Now – Click Here
3UTools invalid icons helps
Remove unwanted non removable icons
Delete white icons
Delete Gray icons
Delete detected mal-function icons
How to use Delete Invalid Icon
Download and install application for your device. Then connect your iDevice to the PC and open application
Then tap upper ToolBox icon and select Delete Invalid icon
Then click "Delete" to confirm remove icons from the iDevice. Now app will detect invalid icon & finally you can see "Deleted Invalid Icon" message. Click OK
Is 3U app will cause to remove your installed apps ?
No, This application is only concern with invalid icons. So do not fear to use this feature with your device. We need to keep our device with clean. So this will help for all iPhone,iPad users.
Unable to use this feature, Why ?
Perhaps some profile based application will not removed from your device. If unable to remove, Please follow this path to delete icons from your home screen. Settings > Profile and Device management > Tap icon > Delete. This will help to remove application. Can this application install for mobile ? No, 3UTools application is unable to download with Play Store or App Store. This is legal application and you can use this application free with your device. If you are interesting with online apps, Please follow official store's applications to delete your device icons.