Your favorite 3UTools application has bundle of features for Apple iDevice users. Some users do not know the features of this amazing application. This guide we like to give most of the useful tools as simply as possible for your device. 3UTools ToolBox consist of two sessions. Both of these are important to all users. This will help to keep your device properly and clearly, Also user can touch with more features joined with your iPhone,iPad,iPod Touch.
3UTools common Tools
3UTools feature more Tools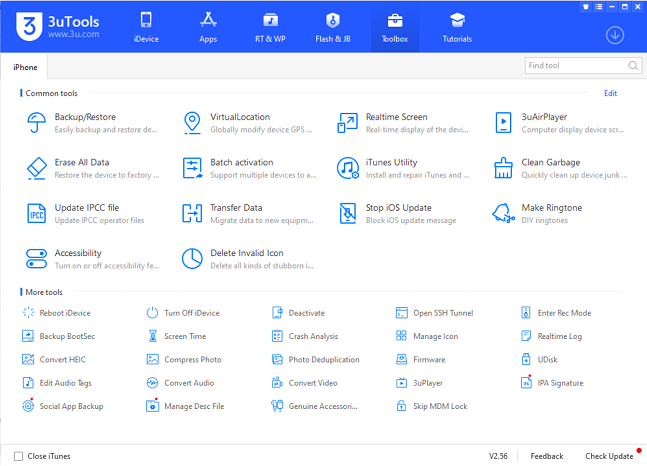 Click Here for Download App Now
Common Tools
Backup and Restore
You can create backup using this application for your required device. Users can setup backup password for secure from third parties. This session included Customized data backup, this feature will help to remove unwanted data for the backup. Also users customize restore feature will help to all users.
Virtual Location
This is another feature most users are using with this application. You can set Longitude and Latitude manually with your required destination and location modification feature is available for users. Also restore default location allows to set for the previous location. You can use Googlemap or OpenstreetMap with Virtual Location.
Realtime Screen
Your device current screen can copy to local pc/clipboard. So users can touch with device without using third party file transfer application. Most Youtubers are using 3UTools realtime screen feature with their videos.
3UAirPlay
You never believe, 3UTools application is ready with AirPlay. You can configure device with PC,TV with this application easily. When you tap AirPlay, You can see dynamic automatically generated IP address. Then users can use this address to synchronize device with many device models.
Erase Data & Batch Activation
This is kind of data management application and users can erase unwanted data from your device. Windows based date management is user friendly method to compare with your mobile based data management apps. Users can manage several iDevices within one application using 3UTools toolbox features. This will be ready advantage for Apple users.
Clean Garbage
This is really help to clean your device with unwanted files and apps. This tool produce free space for users, User can scan cache & apps to make free space. 3UTools application will automatically produce free space within few seconds. Did you touch with this Clean Garbage feature ? No, follow it & keep your device clean.
IPCC File Update
Users can change IPCC file without upgrading to the Ios version. Actually your device IPCC file update is impossible without upgrading to upper firmware. But 3UTools this feature will give really help for you, Please use 3UTools application "Check Update" button before update device IPCC file.
Transfer Data
Data migration is one of the key feature in this application. You can migrate data between several devices using 3UTools application. This feature is not only support for Ios, But also this feature support for Android devices. So 3UTools application is also compatible with Android devices well.
Stop Ios Update & Make Ring tone
Perhaps your device Ios update will be automatically installing accidently or without your concern. This issue will be fix if you use Stop Ios update feature. Also users can make ring tone for the device with 3UTools application. This will be open another extra income with your creative knowledge.
Accessibility & Delete Invalid icon
You can protect device from un-authority access with Accessibility, this session include Wifi, Zoom, VoiceOver, AssistiveTouch app features. Also Delete invalid icon will help to keep your device clearly.
If you have any error with 3UTools ToolBox feature, Please comment or message to us. We like to answer for your question. Good luck & enjoy latest features.